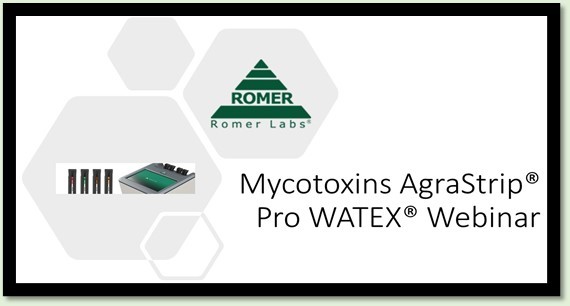 Mycotoxins are the focus of today's safety regulations.
At reception points for raw materials, accepting or rejecting these materials should be fast and rely on an accurate measurement.
There are many techniques used to quantify different mycotoxins.
However, most of these techniques are time-consuming and require many types of equipment and complex procedures to get accurate results.
As a response to this challenge, Romer Labs Introduces AgraStrip® Pro WATEX® system, the new system for the reliable, on-site quantification of mycotoxins.
AgraStrip® Pro WATEX® test kits are lateral flow devices for the rapid, on-site detection of mycotoxins in a variety of agricultural commodities.
Strips are available for total aflatoxin (B1, B2, G1, 2), deoxynivalenol, zearalenone, and total fumonisin (B1, B2, B3), which can be measured simultaneously using the same sample extract.
All you need is a micropipette and tips, DI water, microcentrifuge, and a balance.
If you are interested in learning more about this product, please carve out 35 minutes to watch this On-demand webinar that will discuss the following topics:
The basics of the AgraStrip® Pro WATEX® system
Details about the individual test strips for total aflatoxin, deoxynivalenol, total fumonisin, and zearalenone
The AgraVision™ Pro reader
Who the AgraStrip® Pro WATEX® system is designed for
How it works
Watch The Webinar now: